What customers are saying...
Thrilled with Fit & Quality
My first shopping experience was a huge success! Because things don't always fit perfectly at my age, I'm always hesitant to buy things online. But, everything was perfect and I'll definitely be back!
Perfect Fit!
As a mature person just embracing their femininity, the owner and her team have been so helpful in recommending stylish outfits for me. Everything is gorgeous and fit perfectly! I'm so happy I found JV!
I Love Shopping at JV!
The owner has great ideas for putting pieces together, great customer service, and her prices are amazingly affordable! If I need a special outfit, I always check JV first - you can't go wrong!
Happy Spouse, Happy House
I'm sending a BIG thank you to Jolie Vaughan Boutique. Everything is just perfect. My bride of thirty one years just loves everything I ordered for her. Everything looked and fit great.
Huge Selection & Amazing Prices
Love this shop! Alice is so helpful with colors and styles. She is great at putting looks together and helping with suggestions that are out of the box! Huge selection of great accessories as well!
Great Variety for Everyone
Great place to shop! Great variety of clothes for everyone! Clothes are on great quality. Owner is very nice and very helpful. I would recommend 100%
Amazing Customer Service
Great Service - the owner, Alice has been of great help. Had to get my goods shipped to a different address at a later stage and this was not an issue at all! Cannot wait until I can wear the clothing!
So Much To Choose From!
This boutique has tons of styles and sizes for everyone. I bought items for my daughter and I several things for myself (like 10 items!). I can honestly say I've worn them all multiple times!
Easy Shopping, Great Quality
Love love love their clothes!!! They have some awesome new clothing that is perfect for the cold weather, and I bought some great pieces for work.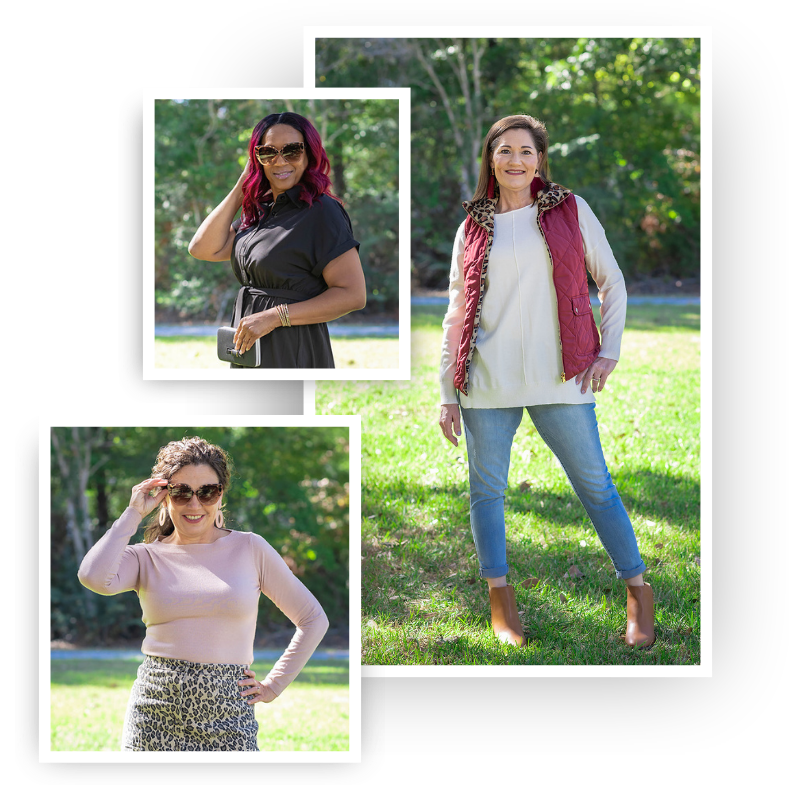 Every woman deserves to feel confident, sexy, and empowered, no matter her age, shape, or size. Whether you're looking for a new wardrobe, a special occasion outfit, or just some inspiration, our team is here to help.
Here's how it works:
1. Chat with a stylist
Chat in or contact us to share details about about your personal style, preferences, and wardrobe needs.
2. Get customized recommendations
Our stylists will provide you with personalized suggestions for your style, budget, and occasion.
The Benefits:
No cost to you
No gimmicks! You only pay for the items you order from us.
Convenient and time-saving
Save time and effort with a personalized selection to choose from!
Satisfaction guaranteed
If for any reason you're not happy, we offer free returns/exchanges!